Online Master of Science in Clinical Informatics & Patient-Centered Technologies
Turning a Passion for Technology Into a New Career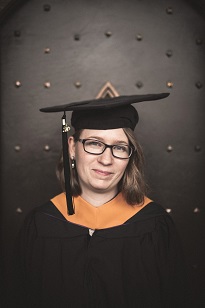 Lauren Mikell
Nurse Informaticist, Veterans Affairs Puget Sound Health Care System
From the start of her nursing career, Lauren Mikell was passionate about health care technology. "I wanted to be a part of whatever innovation was happening in our clinic or our department," Lauren recalled. She knew she wanted to pursue a career in the field of clinical informatics, and when the time was right, she decided to go back to school to earn her Master of Science in Clinical Informatics & Patient-Centered Technologies at the University of Washington.
Lauren, who graduated in 2019, says the CIPCT program helped open doors that led her to a new career as a nurse informaticist. "This program gave me the tools I needed to succeed and move further into the realm of clinical informatics."
---
Tell us about your current role.
I'm currently working as a nurse informaticist at the Puget Sound VA. We're changing our electronic health record system, and my job is to assist with that transition. I'm helping to train and evaluate workflows to make sure there are no gaps. I'm also an advocate for the clinicians. I'm speaking the tech language to the analysts and the people who build the system and making sure they understand what the clinicians need. And then vice versa, I'm explaining to the clinicians what the system will look like for them.
Why did you decide to pursue your master's degree in clinical informatics?
When I started working my first nursing job, I gravitated toward the tech. I was always the go-to person for issues we were having, whether that was technology in the emergency department or new implementations. I wanted to be a part of whatever innovation was happening in our clinic. But I was still a new nurse and wanted to get more experience.
Six, maybe seven years later, I felt like I had a good amount of experience to lend to an informatics role. So I applied to the University of Washington.
How did this degree help you get your job at the VA?
The coursework gave me an understanding of the materials that I didn't have before. And it gave me a lot of technical skills. It also opened doors for me. I was meeting with people I hadn't met with in my organization as I did research for projects. Those people realized that I had an interest in informatics, and they were gracious enough to let me come aboard and start working with them because they saw that I was motivated and that I had the skills. And they were important later on in getting this role.
What was it like taking all of your classes online?
Not having that face-to-face contact with professors is different, but they were always available if we needed them. I was able to seek help from my professors whenever I needed it, and I could meet with them to go over my writing or talk about my research.
What was the high point of this program for you?
I was chosen to represent the University of Washington at the International Partnership in Health Informatics Education (IPHIE) master class at the University of Amsterdam. I wrote an essay on machine learning, and it was selected. I worked on a presentation with our director and a couple other people, and then I gave my lecture at the master class.
While I was there, I got to see all these different projects that people were working on. Some projects were similar to things I was working on, so I reached out to talk to them about their projects. It was fascinating to see people doing these really big projects that are important and are going to change health care and make meaningful impacts. It opened my eyes to the possibilities out there.
What did you learn about yourself while getting your degree?
This program showed me that I can persevere and be successful. I'm more confident in my skills and my ability to help clinicians reach their goals with the technology they're using.
A lot of people have imposter syndrome and feel like they've just gotten lucky or that somebody is going to figure out that they're not meant to be here. I felt that way going into the program, but that changed over time. I was able to see that the work I was putting in was bringing forth professional opportunities and that people wanted to bring me on board for projects because I had the knowledge they needed.
What advice would you give to someone who is thinking about furthering their education in the field of clinical informatics?
You can do it! If you're looking for a career in tech you can be passionate about and if your current job isn't a good fit, this is the perfect program to advance your career. You're smart enough and skilled enough to do this program, so don't doubt yourself.