Online Master of Science in Clinical Informatics & Patient-Centered Technologies
Improving Health Care for the Military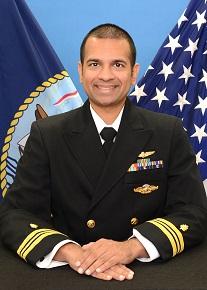 Darshan Thota
Chief Medical Informatics Officer, Joint Operational Medicine Information Systems, Program Management Office
The Boy Scouts played a defining role in Darshan Thota's childhood. "Duty, honor, service and being part of something bigger than myself were really important to me," Darshan said. Those values led him to the United States Naval Academy and then to the Uniformed Services University of the Health Sciences, the military's medical school, where he earned his doctor of medicine.
Residency training is when Darshan first encountered clinical informatics, and he was instantly intrigued. "I knew I wanted to learn more about the field," he said. When he heard about a Department of Defense fellowship at Madigan Army Medical Center, Joint Base Lewis-McChord that also allowed him to earn his Master of Science in Clinical Informatics & Patient-Centered Technologies at the University of Washington, he jumped on the opportunity.
"No matter where my career in the Navy takes me," said Darshan, a 2020 graduate of the CIPCT program, "the education I received in UW's clinical informatics program will serve me well."
---
When did you become interested in clinical informatics?
I first learned about the field of informatics during my residency in emergency medicine. I learned how to capture data and use that data for improved medical decision-making and clinical outcomes. I was fascinated by the entire process. As a resident, I got to participate in some clinical informatics projects, which further piqued my interest.
Tell us about your current role.
Shortly after I finished the CIPCT program, I started my dream job as the chief medical informatics officer at the Joint Operational Medicine Information Systems, Program Management Office. I'm a liaison between the engineering world and the clinical world. I help identify, capture and translate Operational Medicine requirements from doctors, nurses and Corpsmen (similar to civilian licensed practical nurses) to the engineering and technical teams.
I'm uncovering the challenges, pain points and gaps in providers' ability to care for patients and employ best clinical practices. I interpret those needs for the engineers so we get the solutions the providers actually need and not the solutions the engineers think they need.
What does a typical workday look like for you?
Each day starts with an Agile-style stand-up meeting where everyone updates the group on the status of their projects and identifies any help needed to keep projects moving forward. This meeting is where the majority of communication, coordination and collaboration occurs. We also have smaller team meetings that address specific deliverables we're working on.
I typically spend the rest of the day in meetings with health care IT professionals from the other service branches or in learning sessions about a particular issue. One recent example is investigating if current virtual health solutions meet the needs of the Army, Navy and Air Force and identify any overlapping requirements in pursuit of a Joint Service solution.
My day ends with a stand-down meeting where we discuss what was accomplished, tomorrow's plan and if any assistance is needed from other team members. Then I usually spend a couple hours reviewing and responding to email and studying additional reading material.
How is this degree serving you in your current role?
This degree gave me a solid foundation in many core areas of informatics, such as telemedicine, strategic thinking about hospital systems and health care, governance models, data analytics, workflow analysis and development, and user-centered design. So much of what I learned in the program, I'm seeing in real life. Especially virtual health, which is a big priority right now.
Plus, I have a repository of articles that I can pull up and refer to when I need some information on a specific topic. The education in strategic thinking and leadership, and access to specific reference materials have been really helpful in my everyday work.
Tell us about the program's online experience.
The virtual platform takes a little getting used to, but once you get familiar with it, it's a great tool. Collaborating with my classmates over Zoom was easy and seamless. Listening to their comments, reading their posts and working with them on papers allowed me to expand my thinking in a way that never would have occurred without those interactions.
Also, the instructors' knowledge and engagement were great. If you like working with kind, generous and dedicated people, then the UW is the place for you.
What advice would you give to someone who is considering enrolling in the CIPCT program?
If you have an interest in how things work or how to make systems, a process or technology better, then clinical informatics is ideal for you. You'll bring a unique set of skills to the program that nobody else has, and your classmates will learn so much from you — and you from them. So it's OK not to know and to ask questions if a concept is difficult or challenging for you. Just reach out and ask for help, and eventually it'll get better.